"The most effective kind of education is that a child should play amongst lovely things." Plato
This weekend as I watched my children derive intense pleasure from endless hours of digging sand and splashing water on the beach, I started thinking about all of the toys around our home that sit gathering dust.  Everyone with children can probably name the top ten toys that see the most action in his or her home, and I'm no exception.  I've come to realize over the past year that the best toys are those that allow my children to invent new games at will, that don't constrict their imaginations with one specific way to play, that are by nature "open ended."
So, what is an open ended toy?  It's the toy whose play potential is limitless and that grows with your child.  You can't play with it incorrectly; every child will find a unique way to power the toy.  Take Tickle Me, Elmo, for instance.  Convinced as I was that my son would simply adore Elmo's adorable giggle, I purchased the furry red guy as a gift for my little boy when his baby sister was born.  Suffice it to say that Elmo's laugh rang through my house a handful of times at best.  But the play wooden kitchen my siblings bought my son for Christmas when he was 18 months old?  Well, it has earned a prime real estate location in our den where little hands fashion imaginary cakes, pizza, gelato and fancy caffeinated beverages for a coffee loving mamma.
Thus, in the spirit of the summer when children run free through sprinklers enjoying all of the simple pleasures in life, I will use my next six to ten posts to share my picks for the best open ended toys for children.
On the menu for today:  Play Kitchens
You just can't go wrong with a play kitchen.  Try to find a wooden set like the ones below.  Unlike the unsightly and ubiquitous plastic kitchens, a finely crafted wood kitchen will nicely accent your home decor and will feel like a real piece of furniture to your children. It will also last you a lifetime, standing up to the test of many cooks in the kitchen.
Here's a great, relatively inexpensive option by Educo: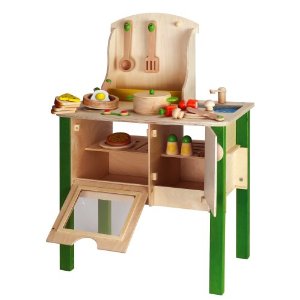 A bit more expensive, but utterly fantastic is this Elves and Angels Sylvie's Kitchen that is proudly made in the U.S.A:
Options abound for lovely, natural play kitchens at every price point.  I'd love to hear about the kitchens that grace your homes.  While I now covet the kitchens I see on marvelous sites like the ones I've listed here below, I still love the blue wooden kitchen from Target we have in our home.
http://www.blueberryforest.com/wooden-play-kitchens/wooden-kitchen-toys.htm
http://www.willowtoys.com/catalog.php?category=1
http://www.threesisterstoys.com/c-18-wooden-play-kitchens.aspx
As I leave you with a picture of my son at 2 with his play kitchen, I should advise you that the fun doesn't stop when you buy your kitchen.  Wait until you see the wooden and fabric cutlery, accessories and foods one can buy to outfit your new culinary space!