Were I to recommend just one book to a friend who was considering going vegan, The Vegan Way: 21 Days to a Happier, Healthier Plant-Based Lifestyle That Will Transform Your Home, Your Diet, and You by Jackie Day would most certainly be it.  Day's lovely blog, My Vegan Journal, never fails to inspire me as my family and I continue on our vegetarian/vegan journey.  Her book has been endorsed by Moby ("When you feel like you're hitting a bump in the road to vegan, there's always a dash of comfort and inspiration here to keep you moving along"), Pamela Anderson ("The Vegan Way is like having a friendly, nonjudgemental vegan friend by your side"), and Dr. Neal Barnard ("Jackie Day's book provides a perfect starting point [to a plant-based diet], with recipes, research, inspirational quotes, and daily goals as resources").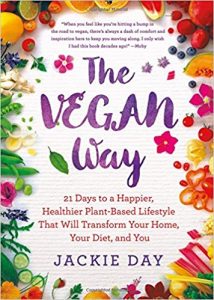 Let me first say how absolutely beautiful the book is, from the watercolor illustrations peppered throughout to the photographs of decadent food and natural products.  Providing a 21 Days-to-a-Vegan Road Map, Day encourages us to set a date and then find our muse.  Some of us may seek inspiration in our children or mindful time with animals.  Others may look to their annual physical results or love of the environment.  Day will join you in your pantry, refrigerator, closet, make-up drawer, as well as on vacation, at holiday parties, and out to dinner.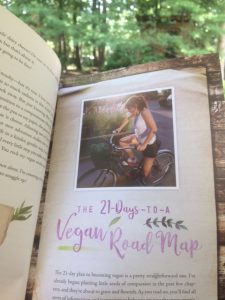 The recipes Day shares are truly delicious (definitely try the Sweet Sunday French Crepes on p. 170). Along with a strong dose of the truth, Day serves up pure joy in finding and celebrating vegan food, but she doesn't stop there.  How about replacing some of your clothes, shoes, household goods, beauty and cleaning products with cruelty-free versions?  I have read The Vegan Way cover to cover three times and refer to it at least once a day.  Get.This.Book!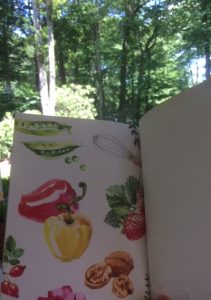 The Ultimate Vegan Cookbook for Your Instant Pot: 80 Delicious and Plant-Based Recipes That You Can Make in Half the Time by Kathy Hester. Shall I first introduce you to my new best friend, the Instant Pot?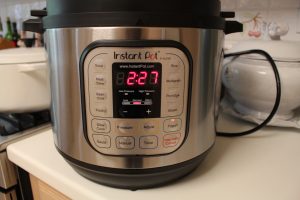 If you haven't heard about this electric, programmable pressure cooker, take a second to do a bit of research now.  It has made my entry into whole food, plant-based cooking simple, fast and fun.  Yet the booklet that comes along with the Instant Pot offers only a few recipes, not many of them vegan. Enter Hester's masterpiece.  In addition to walking us through how to use, care for and maximize the Instant Pot, she shares Ninja Instant Pot Tricks to cook even faster and to make multiple dishes at one time in the same pot.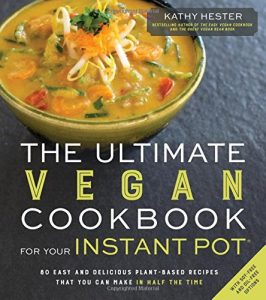 I love that she begins with Five Recipes to Start You Out so you can cook and eat within minutes of taking your Instant Pot out of the box.  I have tried The Best No-Refried Black Beans and Thick and Rich Jackfruit Ragu, both of which were heavenly. From there, Hester moves on to Quick and Easy Homemade Staples to Save You Money.  Please, please, please try her No-Effort Soy Yogurt without delay.  It has become a staple in my home, with all five of us emptying a container in just over a day.  We add it to our steel-cut oats (also made in minutes in the instant pot) and then dazzle it up with fruit, nuts, seeds, shredded coconut and maybe a touch of maple syrup.
Thanks to Hester's clear instructions, I have also nourished my family with Whole Spaghetti Squash, Not-Baked Potatoes, Smoky Pecan Brussel Sprouts, and JL Fields's One-Pot Black-Eyed Peas and Rice.  From grains, beans, soups, and veggies to spice mixes, nut milks, cheeses, and desserts, Hester leaves no course off the menu.  If you have any intention of buying an Instant Pot, don't do so without buying this book first.  You can skip reading the instruction manual because Hester includes everything you need to know in her comprehensive cookbook.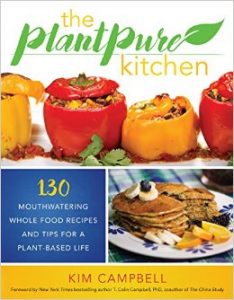 The PlantPure Kitchen: 130 Mouthwatering Whole Food Recipes and Tips for a Plant-Based Life by Kim Campbell. Because it was written by the daughter-in-law of T. Colin Campbell, co-author of the groundbreaking and seminal bestseller, The China Study,  I was expecting big things from this book, and Kim Campbell delivered. Beginning with a list of plant-based pantry items for the beginner, a guide to unfamiliar plant-based ingredients like jackfruit, miso, nutritional yeast, seitan, and tempeh, and a description of useful kitchen tools and gadgets, Campbell makes turning your kitchen vegan simple.
Campbell's book serves to remind readers that everyone can enjoy PlantPure meals as part of a healthy diet.  For those who are transitioning to plant-based eating, Campbell includes an easy-to-read list of substitutions for eggs, butter, milk, cheese and meat so that you can veganize almost any recipe you already love. Tips on meal-planning and organization, storing fruits and veggies, money-saving tips, and decoding food labels round out the introductory material to the cookbook.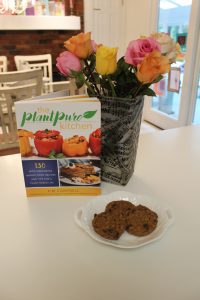 Campbell's recipe categories include:  Breakfast, Breads, Burgers, Sandwiches and Wraps, Dressings and Sauces, Salads, Appetizers, Dips and Spreads, Soups and Stews, Entrees, Sides and Desserts.  My family favorites?   Mason Jar Oatmeal Breakfast (p. 29), Easy Black Bean Soup (p. 151), Smashed Cauliflower (p. 277), and the ultimate winner, Chickpea Chocolate Chip Cookies (p. 248). Yes, you heard me.  Chickpeas – which are absolutely undetectable.  I promise.  They lasted mere minutes on my kitchen counter before my children pounced!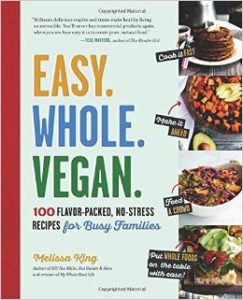 Easy.Whole.Vegan. 100 Flavor-Packed, No-Stress Recipes for Busy Families by Melissa King.   A truly fantastic cookbook that does exactly what it promises:  delight your senses with easy, whole, vegan foods that anyone can make and everyone will adore.  I was instantly thrilled by the short list of ingredients per recipe, often with items I always have on hand.  King includes detailed introductory material that speaks specifically to busy parents, so many of whom have precious little time to cook following work or after-school activities.  Her tips for picky eaters helped my family, especially as we first transitioned to a vegan, plant-based, whole foods diet.  Easy.Whole.Vegan is my go-to book on weeknights, and I often find myself wondering what I did before I found it!
We devoured the Maple Vanilla Baked Oatmeal Squares, Apricot Almond Energy Bites, Easy Mashed Sweet Potatoes, Cilantro Lime Cauliflower Rice, Oatmeal Snack Bars, and Flourless Snickerdoodle bars, also made with the ever-so-versatile chickpeas.  I didn't have any coconut sugar on hand, so I substituted brown sugar in the topping and they were still magnificent.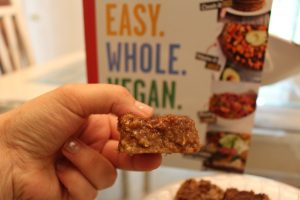 We have a long list of recipes from King's book that we still want to try, including Creamy Orange Pops (they look dreamy), Cinnamon Roll Muffins, Apple Cinnamon Quinoa, White Bean and Zucchini Burger, and Chili Mac & Cheese.  And let me just say that the Cherry Chocolate Smoothie, a blend of frozen sweet cherries, dark chocolate and medjool dates, has my name all over it this summer after a hard day's play with the kids at the beach.  In a nutshell, King is king (or queen, but vegan royalty any way you slice it).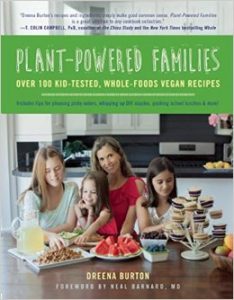 Plant-Powered Families:  Over 100 Kid-Tested, Whole-Foods Vegan Recipes by Dreena Burton. Boasting a forward by Neil Barnard, MD, who in essence tells parents not to be scared to fuel our children with a healthy vegan diet (because, in fact, studies show that the vegan diet is "optimal for promoting long-lasting health"), Burton's book is like an answer to a prayer for parents of picky eaters who need a packed lunch for school – every, single, solitary day!  Yes, packing lunches can be the most frustrating of chores.  My son ate pastina for an entire year before he would allow me to pack other options.  Burton dedicates an entire section of her book (Part 3:  Plant-Powered Challenges … And Solutions!) to satisfying picky eaters, making them smile when they open their lunchboxes with minimal effort from mom and dad, and dealing with hosting and attending kids' parties as a vegan.  Part 4 supplies even more "Plant-Powered Support" in the form of DIY Staples and Cooking Guides, Sample Plant-Powered Meal Plans, and Plant-Powered FAQs.
Did I mention that Part 2 is bursting at the seams with recipes for healthy mornings, delicious lunches and dinners, sweet treats and more?  The book has it all … and then some.  I'm in love. Here is our hit list so far:   Chickpea n' Rice Soup, Apple Pie and Pumpkin Pie Smoothies, No-Cook Oats, Hummus Tortilla Pizzas, and Home Fries.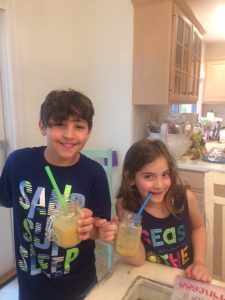 We have bookmarked Ta-Quinos, Cream of Cauliflower Soup, Ultimate Teriyaki Stir-Fry, Peanut Butter Pudding with Berrylicious Swirl, and Fudgescles.  This is also a beautiful book with photographs that make you want to turn on some music and spend the day with your kids in the kitchen.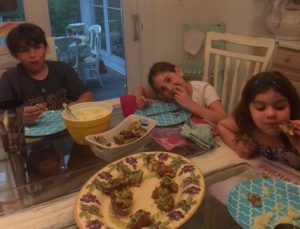 Still hungry for more?  Here are some of my other favorite …
Vegan Books and Whole Food, Plant-Based Cookbooks:
Living the Farm Sanctuary Life by Gene Bauer
Do Unto Animals:  A Friendly Guide to How Animals Live and How We Can Make Their Lives Better by Tracey Stewart
Vegan's Daily Companion by Colleen Patrick-Goudreau
The Happy Vegan by Russell Simmons
Sweet, Savory & Free: Insanely Delicious Plant-Based Recipes without Any of the Top 8 Allergens by Debbie Adler
The Kind Diet by Alicia Silverstone
Chloe's Kitchen by Chloe Coscarelli
Isa Does It by Isa Chandra Moscowitz
VB6: Eat Vegan Before 6:00 to Lose Weight and Restore Your Health … for Good by Mark Bittman
The VB6 Cookbook by Mark Bittman
Films:
Vegan Podcasts:
Food for Thought and Animalogy by Colleen Patrick-Goudreau
Vegan Products Subscription Services: