A very quick post to share a wonderful (yes, as in full of wonder), natural, open-ended, handmade gift that any child would love to receive for Valentine's Day, Easter, a birthday … is there a day that wouldn't be brightened by Wonder Wandz by Lighnting Bugz?   On Valentine's Day, I plan on setting up a little trail of chocolate kisses (in different colors for each child) from their bedroom doors to our living room where they will find two magical boxes.  Open the boxes with me, and see where your imagination takes you …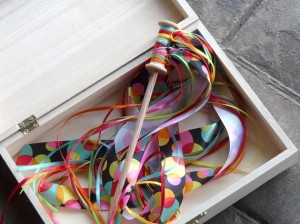 The woman behind the wonder describes how her latest creation, perfect for girls and boys, "can be used for everything from dancing, to running and twirling, to casting magical spells, to helping fairies, to piloting space ships, to fitting in gnome homes, to digging wondrous caves! The possibilities go on forever!! I love how children just seem to know what the wand should be used for at the exact moment."
Wonder Wandz are made with wooden parts and are decorated with ribbons of all styles and widths.  The ribbons are 36″ long. The wand measures approximately 9.5″ and fits inside the "magical" box. "The hinged and latched box makes the perfect home and hiding place for such a marvelous piece of play!"  And why not have your children decorate and personalize their magical boxes?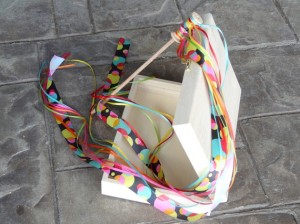 I just customized Wonder Wandz for my children simply by asking "Lightning Bugz," a dollmaker, quilter, writer,  imaginative toy maker, and all around creative genius, to craft two with only the following for color inspiration:  Sunrise and Sunset.  I'll be sure to post pictures when they arrive, but don't let my children have all the fun … order one for your kids (or for yourself) on her Etsy site.
… and may all of your days be filled with marvels, magic, and a child's innate sense of wonder.