Even as a budding feminist in my college days, I swore I would never let my future children play with Barbie dolls. Graduate school only cemented my belief that Barbie perpetuated a stereotype of "ideal" beauty that was unattainable and promoted a hyper-sexualized look completely out of line with her audience of young girls.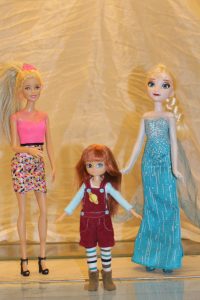 I scoffed at Mattel's attempts to get parents to "buy in" to Barbie by marketing her as an astronaut, surgeon and POTUS, all the while maintaining her unrealistic body standard (if she were alive, she'd be 5'9?, 110 pounds and desperately trying to stand up straight on those tiny, permanently arched feet – because Barbie always wears heels). This post doesn't aim to crucify Barbie. You can find data on the Barbie Effect easily enough.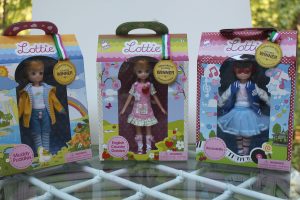 What this post IS about, and what I'm so very excited to share, is the ANTIDOTE to that very effect: The Lottie Doll! I came across Lottie while searching for a posable, child-like doll to empower my adventurous girls to be exactly who they are in this very moment in time, to encourage creative play and to allow them to see in their dolls a reflection of themselves.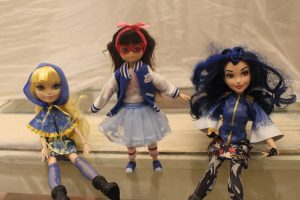 What immediately struck me was that Lottie looks like a little girl: no exaggerated make-up (I'm looking at you, Bratz dolls), high heels, jewelry, or racy attire. Her body was based on that of a nine-year old child, so her proportions are realistic, with the one exception of her head which is ever so slightly enlarged so kids can play with her rooted, soft hair. She's also ethnically diverse, immediately available in a range of skin, hair and eye colors, so that every child can find a doll that speaks to him or her.
At 7 inches tall, Lottie is small enough to tuck into a pocket or bag and take along for play anywhere. Unlike Barbie, Lottie can stand on her own two feet (lucky gal), so she can partake in all of the grand adventures that our own children invent and imagine at home or on the road. Even from inside her colorful, reusable box (which aims to minimize blister packaging), Lottie's big personality is evident. Lucie Follett, co-founder and creative director of Lottie, says of Lottie's character: "Lottie is a feisty character; she can stand on her own two feet and whilst she occasionally makes mistakes, she learns from them. She is not perfect. Lottie loves adventure and the outdoors and uses her imagination. In many ways, she is inspired by the spirited female characters in books we loved as children: Anne of Green Gables, Pippi Longstocking, Jo in 'Little Women', Nancy Drew and George in the 'Famous Five'."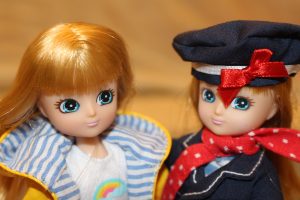 Lucie, you had me at hello. Pippi, Jo, Nancy Drew, Anne of Green Gables! These were the heroines of my childhood. Just throw in Ramona and we've reached a state of pure childhood bliss. These characters came to life on the page, drawing me into their worlds so completely that I often had a hard time coming back when the book was done. Pippi and Ramona are familiar friends to my children, and I'm (not so patiently) waiting to introduce them to Nancy, Anne and Jo.
Lottie's adventures take place on an imaginary island called Branksea, which is loosely based on a real-life island called Brownsea Island in Dorset, England. Branksea's rich history of Romans, pirates, Elizabethans and Victorians, coupled with its woodland topography that all sorts of wildlife call home, makes it the ideal storytelling locus for Lottie's escapades.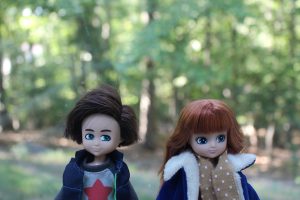 I'm particularly drawn to the outdoor play that Lottie brings to the table, from body boarding, horseback riding and butterfly protecting to splashing around in muddy puddles and jumping into enormous piles of crisp autumn leaves. She's an active girl, as comfortable in her karate, soccer and gymnastics gear as her soft pjs and school jumper.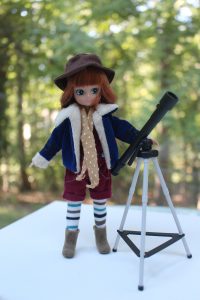 And speaking of school, in a world where STEM (and now STEAM which rightfully values the role of the arts in education) dominates, Lottie tells young girls that science is not the sole domain of boys. Stargazer Lottie, the first doll in space (she's back!), Robot Girl and Fossil Hunter Lottie are just three examples of Lottie getting her science on, but the possibilities for exploration in the lab and the natural world are endless.
If you think that all of this necessarily excludes the child who still longs for fantasy play and dress-up, feast your eyes on the adorable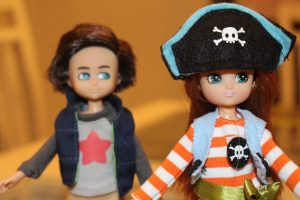 Snow Queen Lottie, Pirate Queen Lottie, Spring Celebration Ballet Lottie, English Country Garden Lottie, Branksea Festival Lottie, Pandora's Box Lottie and Rockability Lottie.
As I marveled at each wonderfully detailed doll and read the pro-girl storyline synopses on each Lottie box, I wished for a male counterpart that boys could relate to and girls could add to their Lottie-inspired world.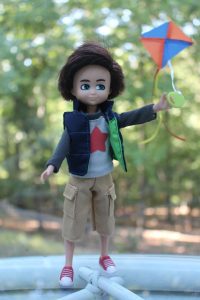 Enter Finn, an equally realistic and childlike doll that promotes wholesome play as he sends up his blue and orange kite at the Branksea Kite Festival or heads out for a day of fishing at the watering hole with his trusty rod. No guns, no violence, no adult themes to interfere with his complete and active immersion in nature.
Arklu has a game changer on its hands, one that I've awaited since well before becoming a mother. While Arklu kindly provided Finn and Stargazer Lottie to me for my review, I was so utterly enchanted by these dolls that I purchased seven other dolls and a few outfits for holiday gift-giving. Lottie's tagline, "Be bold, be brave, BE YOU!" galvanizes young children to embrace individuality, as they recognize and celebrate what makes them and others unique. While this may seem simple, it is actually quite revolutionary in a toy industry that continues to market look-alike dolls that standardize beauty and personality.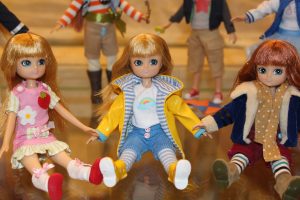 Come back soon for a video review of all of our Lottie Dolls and let me know your thoughts on Lottie in the comments. #LetThemPlay