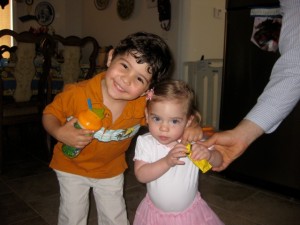 I'll be enjoying a good bit of summer fun with my little ones until July 10th.  Please come back and see me again then.  In the meantime, when the dreaded combination of extreme heat, exhaustion, excessive sugar and overstimulation threatens to turn all of your children into little monsters (we've all watched as our child melts down over the smallest of things), remember this wise parenting adage:
The days are long, but the years are short.
Somehow those nine words settle me, reminding me that one day in the not so distant future my four year old son and one year old daughter won't need or even want my constant attention as they do now, and when that moment arrives, I will look back wistfully at these long days with a yearning I won't soon be able to quell.
These are days to remember.  These are days to nibble slowly, savoring each sweet morsel as if it were the last.
Happy summer days to you all.