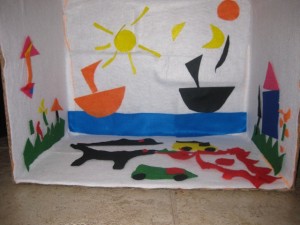 Looking for a quick, painless and easy craft that will entertain your children long after the crafting is done?  Look no further …
As holiday gifts arrive at my doorstep, my house becomes increasingly overtaken by cardboard boxes of every imaginable size.  What to do with so many bins as we await recycling day?  Make a traditional, old school storyboard or storybox, of course.
Instructions (from a self-proclaimed crafting disaster):
Carefully cut off one side of your cardboard box and get to work covering the interior with felt.  I used a spray adhesive from my local craft store to adhere the white felt to the cardboard, but do be careful about doing this away from your children.  I let my little ones watch me through the sliding glass doors as I crafted their snowy scene of white felt.  Blue would also make a fantastic backdrop, as it can be sky and sea at once.
While the storybox is drying, let your children join in on the fun by giving them large swaths of wool felt and markers and chalk with which to design shapes and images.
Carefully cut out your images and place them in a special box or sack for safekeeping.  Older children can use safety scissors to cut out their own creations.  Our cutouts were comprised of basic shapes and a few rudimentary figures (a dragon, articles of clothing, etc.), but you can also incorporate laminated images from magazines and coloring books with a bit of velcro or sandpaper glued to the back.  And, of course, if you need some inspiration or would like to buy handmade elements for your storyboard, visit Etsy.com where marvelous sets abound.
Step back and watch as your children fill the box with stories that once lived only in the recesses of their minds.
May your holiday season be filled with simple pleasures and homemade fun, and may those blessings follow you into the new year.  Happy Holidays to all.